Dear Partners and Friends of Welcome Network,
We hope that you are keeping well. God is on the move! He is knocking on the doors of many hearts, challenging them to say "Yes" to His offer of abundant life.
In our local town of Alnwick we have just hosted the most wonderful revival gathering of various leaders from across Northumberland and beyond, those in church planting, intercession, worship and the prophetic. This was our second gathering of Fire in the North.(See Opening You tube video by clicking on title above)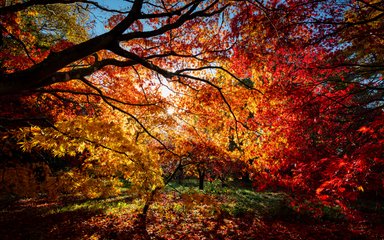 We were very encouraged, as we heard from different ones in the North East, about what God is doing in the rural communities, as well as the urban – how groups, which are meeting monthly, are growing; and how young people are becoming believers in Jesus! We continue to earnestly pray for God's fire, His love, passion and compassion to transform our communities.
CEDARWOOD During the summer we helped with Prayer Ministry at a regional Christian open air worship event called Cedarwood. Later we were able to go away for a lovely break to the Island of Lewis, to visit our friends, Kirsty and Andy, who have a wonderful croft with many animals!
"MORE TO LIFE"
In preparation for a series of autumn evangelistic meetings in Alnwick, we have been praying for God to open up people's hearts, so that they will know how their lives can be transformed, through Following Jesus. Our evangelist friend, Wayne Hudson (Go and Tell Ministries), will be sharing the exciting story of what God did in his own life – how he was freed from a troubled life of drug addiction and darkness. He will also be bringing some workshop training on how to share our faith with others.
INTERCESSION WEEKEND In August, we invited an intercession team to come to pray for Alnwick and the surrounding villages. We really appreciated their input, encouragement and prophetic prayers! We want to say a big "Thank you" to Ali Rimmer, Sue Sinclair and team from Community Watchmen Ministries.
 BRIGHT RIVER CHAPEL
We continue to have our regular online Bright River Chapel time every Sunday at 4pm, but in addition to this, on 15th October we will begin monthly Sunday meetings in Alnwick, with worship, word, prayer and sharing.
Alongside this, we host a monthly zoom called Pockets which encourages and supports a scattering of folk from across the North East, as they seek to share the gospel in their local areas.
FINLAND & ESTONIA We are also looking forward to a ministry trip to Finland and Estonia later this Autumn, with the opportunity to connect with old friends while we are there.
AT HOME Over the last few months, we have been able to host different ones coming to pray in our home and garden in Shilbottle, but there has been some disruption due to a slow but prolonged leak of water that we discovered on the ground floor. The damage done is still being rectified through our insurers. Your prayers for a speedy conclusion to this necessary renovation work would be much appreciated! 
Thank you for all your prayers and financial giving. Please keep in touch, we appreciate your input into our lives.
 With much love from
                                         Bob and Mary Bain  xxx