Dear Partners and Friends of Welcome Network
WHATEVER HAPPENS…We started 2021 with the word, Whatever happens keep on singing!
In different ways this is what we have been doing, and we sense God's pleasure as we glorify Him in our worship.
One way has been through Bright River Chapel –our weekly online gathering from Alnwick which happens every Sunday from 4pm on zoom (with a facebook livestream from 4.15pm). You are very welcome to join us from wherever you are on the globe as we worship the Lord, and encourage and pray for one another (ID: 7253379548 Password: Albafarne).
On January (15th) we will be hosting a BURN in our local town of Alnwick led by our good friend, Lynne Gowland. This will be an extended time of worship over six hours where people from all across Northumberland can join together in an atmosphere of worship and the prophetic.
In a very different singing genre, we began Awake Gospel Community Choir this year. It is a great opportunity to bring together anybody in our area of Northumberland who enjoys having fun singing gospel music. We are still in the early stages having had just seven sessions! We are not quite Brooklyn Tabernacle choir yet!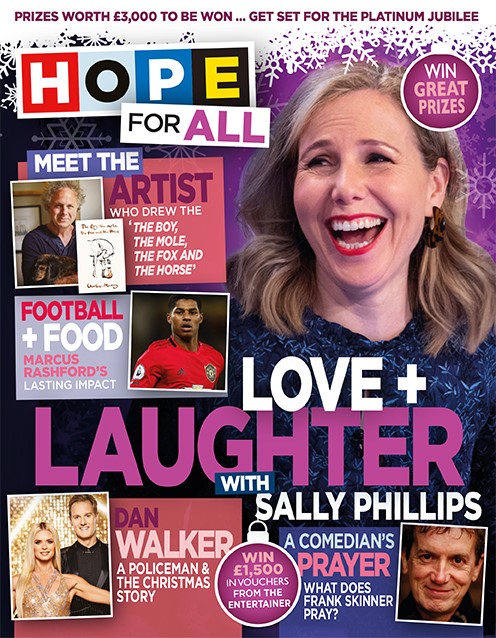 OUR VILLAGE Please pray for the goodness of God to touch the people of Shilbottle, as we post a Christmas gospel magazine and prayer card through the doors of the 800 houses in the village. The community notice board which we erected alongside our property this year has been well used and right now is looking particularly Christmassy! There are posters of local village events and information about carol services. By the notice board is a Community Prayer box through which local people can let us know things for which they would like prayer. We want to thank 'I Am church' for their generous gift towards installing this, as well as the many who gave individual gifts.
Our village chaplaincy work continues with regular meet-ups with different ones and the occasional larger event such as the outdoor Remembrance Day service, which we help to coordinate. If you would like to spend time away connecting with God, our prayer garden,Albafarne, is open throughout the year.  There is a summer house you can use, as well as the garden plus a toilet and tea/coffee making facilities. You are very welcome.
POCKETS  Every month, we now meet on zoom with a lovely group of mission- minded folk. They are scattered all across the North East of England, but we are able to encourage and support one another as we love God, and do life in our local communities. Let us know if you would like to join us for one of these "Pockets" Conversations.
NORDIC COUNTRIES  This year, we have really enjoyed being part of a group called Nordic365, praying for all the Nordic countries. We don't know yet, what God has for us to do in 2022 – please pray for us!
BOOKS FOR CHRISTMAS!  If you like poetry, Mary's two books of poems may be just the thing to inspire and encourage you or your loved ones! My Song Matters  and Beyond the Door.
Also, Launching after Lockdown, our recent prophetic and devotional book, will help you to enter into the new season that we are in.  Finally Sentness – Discover the apostolic within you  is our latest book; in which we encourage everyone that we can all be apostolic! A real wake-up call! Some Teaching sessions based on the book, and expanding our thoughts about Sentness, along with special guest interviews, are now available to view on You tube.
THANK YOU   Last, but not least we want to say a BIG THANK YOU for all the support and prayers for what we do. If you have benefitted from our work in Welcome Network, please consider supporting us financially. This can be a one-off or a regular gift – see details on how to do this at the end of this newsletter. We are very grateful for our base of supporters whom God has prompted to help us.
Please also pray for us that we will hear what God is saying and be a blessing in the North East, in the UK and in Scandinavia. We would love to keep in touch, and let us know how we can pray for you!
Much Love and a very Happy Christmas!
from Bob and Mary Bain XXX
Welcome Network, 29 Grange Road, Shilbottle, Alnwick NE66 2XN; Mob: 07988564299
e-mail:  bobbain@hotmail.co.uk; See our website blog for ministry news and info:-welcomenetwork.org
To support our work, please send gifts to Welcome Network,HSBC sort code 40-16-11 A/C no. 22141965 or use our giving link:- https://www.give.net/welcomenetwork/oneoff