Dear Partners and Friends of Welcome Network
We hope that you are keeping well.
Fire in the North!We have just finished hosting the most wonderful revival gathering of around 50 various leaders from all across Northumberland- those in church planting, intercession, worship and the prophetic. We called the gathering, "Fire in the North" because we are eager for God's fire- His love, passion and compassion to transform our communities here in the North East of England!
We chose the venue, an old stately home called Howick Hall, because, on a previous visit there, we had spotted on the entrance hall ceiling, the words from Psalm 127:1
Unless the Lord builds the House, those who labour, labour in vain.
We felt that this scripture was so appropriate – speaking to all of us who are aching for God to move in revival.
Summer Festivals During the summer we helped in the Worship and Prayer Tent at a Christian open air worship event called Cedarwood in our region. It was an exciting and fulfilling time, as we saw God move and bring hope and healing into many lives!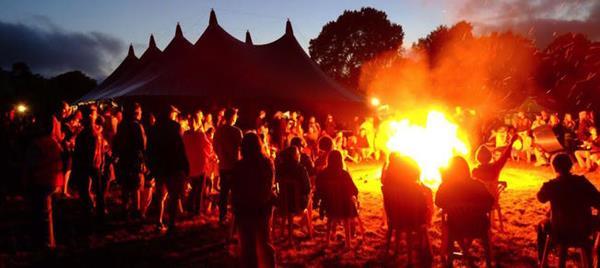 Then at the end of August, Bob and I drove down south to join in with David's Tent, an event where there is continuous worship for over seventy two hours. We really felt renewed and refreshed as we spent time drawing near to God in worship. It was very encouraging to be surrounded by people of all ages enthusiastically giving their hearts to God! Our son, Matt and daughter in law, Sharmila were helping on the team, and Sharmila was one of those selling beautiful crafts, pictures and other products in the Resource Tent. Also in August, it was a joy to be speaking and sharing with others at the national gathering of a church network called Harvest Chapel International in Nottingham. The theme was Enlarge My Heart from Ps 119:32.
Bright River Chapel and Pockets We continue to have our regular Bright River Chapel time every Sunday at 4pm, but sometimes we have popped up in unusual places while camping, or on family visits. We have also enjoyed some special guest times- with Kirsty Allen from Lewis (now married – many congratulations!); with Talia Arose a singer/songwriter from Paris, and Chelsea and Joe Pay from County Durham. We have also hosted a monthly zoom called "Pockets" which encourages and supports a scattering of folk from across the North East in their desire to share the gospel with others in their local community.
Family News  We had a wonderful time in Norwich celebrating the graduation of our daughter, Vicky and one of our sons in law, Scott, both becoming doctors; even though the ceremonies had been delayed by one or two years!!
It has also been lovely to visit some of our grandchildren this Summer;  in London with Joe, Emily, Alex, 4yrs and Oliver 2 yrs; and in Paisley seeing baby Jack, now 4 months old, born to our daughter, Esther and son-in-law, Martin earlier this year. We are now in the final stages of getting ready for a trip to Melbourne, Australia where we will be visiting our son, Jonathan and daughter-in-law, Dolly and family, Edward and Henry.
Thank you for your prayers and financial giving. It has all helped and we appreciate your input into our lives.
With much love from Bob and Mary Bain xxx
Welcome Network CIO, Albafarne, 29 Grange Road, Shilbottle NE66 2XN Mob. 07988564299  Email: bobbain@hotmail.co.uk  See our website for ministry news and resources, welcomenetwork.org  To support our work please credit gifts to WelcomeNetwork CIO, Lloyds sort code 30-91-92 Account number 77504560 or use our stewardship giving link give.net/welcomenetwork/oneoff