POSTS by BOB and MARY for citygospelmovements.org
SINGING OVER CITIES (Prayer/Worship)
GOSPEL CONVERSATIONS IN A LOCAL PUB (Evangelism)
EXTENDING THE INVITATION (Church Unity)
OUR PRAYER WALKING EXPERIENCE IN A LONDON BOROUGH (Prayer)
1) Singing over Cities.
'IS GOD CALLING US TO SING OUT SONGS of OF BLESSING OVER OUR AREA?'                                                                                              
( see article at:-https://citygospelmovements.org/get-equipped/)   
This was the question we asked three years ago about our own area in the UK — the London Borough of Havering. As a result we got inspired to single out eight significant places, from which groups from different churches could sing out God's blessings over the land.
In the Old Testament altars were often built on the high places, and it was there that a sacrifice was made, and the people worshipped God.We felt God leading us to declare His praises from the high places in the borough, and to call the people to return home to Father God. We were reminded of the Aslan, the lion in the Narnia books by C.S.Lewis, who sings over Narnia in the beginning and brings all creation into being. We believed that our words, sung out and declared, would have a powerful, creative effect on our community.
WORSHIP LEADERS UNITED
Earlier in the year we had helped local worship teams from different churches to meet up, get to know one another and enjoy a day of worship together. We asked a well-known national worship leader to be a catalyst for the day, not so much to teach, but to help ground the day in the DNA of worship and relationships. There was a sense of unity and wider significance being birthed.People from these worship teams formed the core of those who went out to the different places to sing out God's blessing songs.
REMEMBERING OUR HISTORY
The wider church in Havering have had a history of waiting on God in prayer, and it was out of this good foundation and personal prayer that we chose the eight places from which to sing. We chose a date for a Sunday afternoon a few months ahead in the summer season, and began to communicate what we were up to. People were excited about the idea of flash mobbing the borough with God's praises and blessings from different places, all on the same day and at the same time.
Our borough has several distinct areas. What had been villages and market towns a few hundred years ago is now the outer edge of the urban sprawl of London. Each area, however, still carries its history. There is the site of a royal palace up on a hill, first built a thousand years ago. There is a housing area built to house the bombed-out homeless, after the Second World War. There is an old church from the eleventh century still being used for worship. In the centre of the borough, on the line of an old Roman road, is Romford marketplace. In the past, hundreds of cattle would have been herded through here in order to feed the capital.
BEFORE THE PRAYER DAY
In an email we sent out, we talked about being forerunners, preparing the land for revival. We referred to 2 Chronicles chapter 29 which talks about the re-dedication of the Temple. The singers and musicians were carefully positioned, according to directions given from God via the prophets. Just like them, we as modern day worshippers, were being God-positioned around our borough to sing out worship, praise and declarations. Our cry to God was that, through this, the spiritual atmosphere of our borough would be changed.
ON THE PRAYER DAY…
Eight different groups went to their different locations, sang out in the fresh air for about twenty minutes, and then afterwards we all met together to share how it had gone.
So how did we feel that God had responded? There was a general feeling of encouragement and excitement from everyone and several words and scriptures highlighted. In some places a few passers-by had raised their eyebrows, and in one place some children playing on bicycles had joined in the songs!
Overall, perhaps surprisingly, we felt that God wasn't directing our attention so much to the Harvest fields of Havering but to the Harvest labourers. We had sung out His blessing over the whole community, but the words we heard back from the Lord were words to His church for our comfort and encouragement. God was using the different locations to speak significant words collectively over us. The eight locations had given a context for the words to be heard with greater impact.
At the site of the royal palace on the hill, God reminded us of our own position of authority in Heavenly places and that wars are won in the throne room.
At the road boundary between lower-income housing, built for families after the war and the richer housing area nearby, we were challenged to honour one another, whatever our backgrounds
At the eleventh century church God reassured us that He had been there through all the generations of believers before, and His presence was still with us now.
From one location to another, God was encouraging us to grow in our understanding of who we are, and of who we can become in Him.
We felt that what we had done had been important; that an ongoing atmosphere of revival was being nurtured in our area, and that the coming together of the prophets, the worshippers and the praying people was a key part in it happening. Following on from this, there have been several worship celebrations together, which have continued to unite Christians from all ages and backgrounds.
Is God calling you to take a fresh look at your area? Perhaps He is asking you to sing out His blessing songs over the land in which you live.
2) Gospel Conversations in a Local Pub
WHAT IS THERE EMBEDDED IN THE HERITAGE OF YOUR AREA WHICH LENDS ITSELF TO MISSION?
One mission we initiated in the East end of London, in the United Kingdom, began with curiosity over a pub sign which had incorporated a large icon of an Orthodox saint.
In an urban environment where no one appears to be paying much attention to the Christian message, there are a surprising number of Christian things layered into the landscape which you may be able to use to share the gospel.
A SAINT AND A PUB
When we moved house to live in Collier Row, in one of the outer London Boroughs, we got curious about this icon we saw swinging above the door of one of the local pubs – the Colley Row Inn. Collier Row was formerly a village which has now been swallowed up by urban development as London expanded. It wasn't somewhere you would normally associate at all with a Greek icon.  Our local church leaders group occasionally met in the pub for breakfast, but none of the long-standing members knew why there was an icon on the pub sign. The staff didn't know either. Clearly someone must know, we thought, but it was only later, after a refurbishment, that a plaque appeared on the wall explaining all.
England, U.K. – Entrance to The Colley Rowe Inn, a local pub named after town saint.
The icon in question was of St Alexander of Comana, the patron saint of charcoal burners. Collier Row was aptly named because, in medieval times, this was the place on the edge of the forest where the charcoal burners lived (called colliers at that time). Of course, we realised that they would have made a big thing of their patron saint in those days, especially each year on his official feast day, August 11th. Amazingly we had stumbled on Collier Row's very own patron saint, and when we read his story, we realised it could be used to convey the gospel challenge of giving our lives to God, and allowing His plans to unfold in us.
Alexander had run away from his worldly life to hide as a charcoal burner in Comana. But when the next bishop of Comana was to be chosen, Alexander was pulled out of the crowd as the one God had truly called to take on this role.  At that moment Alexander decided to hide no longer, but to flow with the plans God had for His life, and to be a blessing to his community.
A NATURAL OPPORTUNITY FOR GOSPEL CONVERSATION
Using this story, we put together a leaflet which challenged people not to hide away, but to come to the God who knows the best plan for their life. We approached the pub manager who was more than happy for our small team to be in the pub on August 11th, which we dubbed 'Don't hide your blessings' day – celebrating Collier Row's very own patron saint.
On that day, we handed out vouchers for a free drink, along with the leaflet, and some themed beer mats that we had made. A number of local Christians came along and had meals during the time we were there, so business for the pub was boosted. In our team there were some outgoing friendly types who knew how to open up conversations. They engaged well with some of the regular locals using Alexander's story as a starting point and had some great conversations about Jesus and the meaning of life.
HOW LOCAL CHURCHES JOINED IN
Some of the local people had already heard about the day from the local priests at both the Roman Catholic and the high Anglican churches. We had approached them before the event and planning for August 11th. They were very supportive and gave donations towards the free drinks, and, on the Sunday prior to the day, profiled the story of the saint at their services. We also gave them a prayer card with a clear gospel challenge to hand out. The prayer cards were designed in a style familiar to their tradition and went down very well.
England, U.K. – Local pub's eponymous name inspires event where guests talk about Jesus and the meaning of life.
STEP OUTSIDE OF THE TYPICAL TO SHARE THE GOSPEL
We are praying that the scope of the day will be extended in future years, and that August 11th will become part of the local cultural calendar of Collier Row.  Celebrating a saint's day at a pub was not a normal part of our own church subculture, but we decided to go outside our comfort zone, connect with Christians from very different traditions to our own, and make use of the swinging pub sign, which unknowingly, was pointing to a great gospel story.
Why not pray about your area, and let God point out some unusual things hidden in its heritage which could help you to share the gospel message in your city?
3)Church Unity- Extending the Invitation!
WHAT DO YOU DO WHEN YOUR LOCAL NETWORK OF CHURCHES DOESN'T SEEM TO REFLECT THE CULTURAL DIVERSITY OF THE AREA?
In the London Borough of Havering, on the outer edge of London, there is an excellent network of churches and ministries regularly meeting together, called "Across Havering".  When my wife, Mary, and I first went along to a meeting, we were surprised that in the group there were only two black faces! The demographics of Havering had been slowly changing over the previous five years, and had become, noticeably, much more culturally mixed. Personally, we knew of at least six or seven newer, black-led churches, and were sure that there were even more as well. We talked with the leaders and realised that, unintentionally, newer churches, many of which were African-led, had not been spotted and included in the invitation list. So, Mary and I started to do our homework, to discover these churches. We all felt it was about time to extend an invitation!
WHAT WE DID TO EXTEND THE INVITATION
 We found some newer churches through the internet, but mainly we spotted them by driving around the area for several Sundays. They were meeting in a variety of venues – sports centres, schools, social clubs, community halls and scout huts, as well as hired space in the buildings of older churches. Their publicity banners usually only came out on the day, so during the week you might never know they were there. Fortunately, there were contact details on most of the banners, so, at last, we had the opportunity to invite them along to the Across Havering meetings. There were over sixty new churches!
Rather than just e-mail people, we tried to telephone, and arrange to see the senior leader. Or we literally just showed up, at the start or close of a worship service. There were some misunderstandings – twice I was greeted suspiciously. "Was I from the local council, or the Border agency? Had there been a complaint about noise or parking issues?" The reaction to our invitation though was, without exception, a genuine appreciation that we had gone to the trouble to contact them, and that we wanted to include them in our network meetings. None of them had been aware that these meetings even existed!
We chose a specific Across Havering date for the invitation, one of the evening gatherings, because we recognised that the majority of the newer church leaders had to work their schedules around other daytime job commitments.
THE NIGHT EVERYONE CAME TOGETHER
 On the night, we, personally, collected a couple of leaders from their homes and brought them with us. This was a good move, but we arrived later than we had intended. With shock and surprise, we walked into a meeting, double its number in attendance.  People were sat around tables drinking tea and coffee, and a sea of black African faces turned towards us as we entered. I had a mixed feeling of elation and groaning inside me! We were thrilled that they had come, but realised that now the hard work of building relationships was about to begin.
We had failed to suggest to the network co-ordinator of the meeting, that the regulars might need warning of more visitors that night. Imagine our dismay at seeing some leaders sitting in white English huddles, without a thought of engaging with the new people! In a perfect world, we should have sown our vision and got others involved in the inviting process, but, instead, we were their first point of contact, and each one of the new leaders looked up, expecting us to come and sit down next to them! We moved around rapidly, greeting different ones, like the bridal couple at a wedding reception, and then, with a few other more outgoing souls, we sat ourselves down in ones and twos, and began to break the ice. The honeymoon period had begun, and not everyone stayed with the process, beyond even that first event, but doing the homework, and making the invitation has been worth it!
THE IMPACT SINCE THE GATHERING
Some of the newer leaders have now, themselves, hosted the network meetings. Also some good heart changes have gone on amongst us all, and we have learnt a lot together. Building settled relationships with each other has led to joined up thinking, regarding our mission into the borough of Havering. There has been a sharing of wisdom and resources, and a growing sense that we are working together as wider church.  For example, an idea for a free community BBQ event in one difficult housing area became an initiative from all the local churches. Leaders were involved who previously wouldn't have known of one another. The ongoing result has been a definite positive change in the attitudes of local residents. Racist graffiti and vandalism, which had previously been a problem for one church, has now stopped, and instead, its building has become a much-used community hub.
From our experience, we have learnt that it is not good to assume that your leadership network is reaching every church leader in your city or area, but to be diligent in seeking out the newer churches. 
It could be the specific responsibility of one or two of the leaders, to discover and invite the newer ones, so that the wider church in an area benefits from every one's input and gifting.
There may be some hard work involved in discovering the whereabouts of the newer church leaders in your area, and extending an invitation into friendship and meeting together, but it is definitely worth the journey! Eph4:16  'from whom the whole body, joined and knit together by what every joint supplies, according to the effective working by which every part does its share, causes growth of the body for the edifying of itself in love'
A DIVIDED LONDON BOROUGH 
Redbridge is a London Borough with a population of around 260,000 people. The geography of the area is very divided, with major arterial roads cutting through the Borough towards and around Central London. The Borough is a relatively modern political construct bringing together into one unit, two very different towns-Woodford and Ilford. There is not a strong sense of unity or identity across the Borough.
The LOGO we created for LOVE Redbridge
INVITED TO HELP BRING SOME UNITY 
We were asked by the Street Pastors Co-ordinator at that time, if we might be able to help in bringing more unity in the way that the churches were working in the Borough. She had seen what was happening elsewhere, and realised how fragmented church work was in Redbridge. We were happy to help, and felt we needed to start with prayer.
A UNITED PRAYER DAY FOR LEADERS 
We created a group called Love Redbridge, (the shape of the Borough looked a little like a heart) and we built up relationships with many different church leaders  over several months by having one to one conversations over cups of coffee. Our plan, as a small core team, was to hold a prayer day event for church leaders from across the whole spectrum of churches, at a central location in the Borough. This took place, was a success, and resulted in a second similar event happening the following year.
HOW TO INCLUDE EVERYONE? 
Meanwhile we wanted to encourage a wide base of prayer from all believers in the Borough, but didn't feel there was enough ground swell interest from the local churches to hold a large prayer rally for everyone to attend. We were not convinced either that this was the way to go, and would involve a lot of expenses and heavy logistics for it to work. A large gathering would require a large venue, and choosing one of the local church buildings would be difficult. If we chose one in Ilford, it was unlikely that those in Woodford would want to come, and vice-versa.
WHAT ABOUT PRAYER WALKING THE BOUNDARY? 
We decided a more flexible way forward was to prayer walk around the boundary of the Borough. We chose three separate days to do this, one in the spring, one in the summer and one in the autumn. The walks were modest in length (three to five miles), from 2pm to 5pm with lots of stops at different churches, ministries, and landmarks. We allowed plenty of time as a group can walk VERY slowly! We also went and walked the route beforehand, ourselves, to check that timings were realistic. We deliberately connected with a variety of church types and ministries to reflect the range of work Christians were doing in the Borough. So during the walks, we walked as believers from Anglican, Evangelical, Pentecostal, Charismatic and Catholic churches, white English and Black African. We heard from Teen Challenge at work with addicts in Ilford, and from the Women at the Front line ministry working with street sex workers in Ilford.
INVOLVING CHURCHES AS STOPPING POINTS 
Rather than have only a small intercessory team prayer walking the boundary, we intentionally made an effort to mobilise the grass roots water table of believers in the area. We were able to get much more participation by contacting the churches along the boundary of the Borough and asking if we could make them prayer stops along the way. We asked them if they could share their prayer needs and their understanding of their local area, and join in at least the next stage of the walk for a mile or so. This strategy worked really well, and local churches were not only happy to host the prayer walkers for half an hour, provide refreshments and a toilet break, but also took part in some of the walk.
LOOKING OUT AND LOOKING IN 
By prayer walking the boundary, we felt we were encompassing the whole territory and declaring that the whole area belonged to God (Ps 24:1, Gen 1:1). Walking on the boundary gives a two-way perspective. On the edge, we were looking in towards the Borough, as well as looking out beyond it. This readily invited questions about what made Redbridge distinctive in character, and what were the influences and impact which this Borough had on others and vice-versa.
INCLUDING NON-WALKERS 
We think that God was very happy with our desire to include and honour, as far as was possible, the many different parts of the church in Redbridge. In hind sight we would have also liked to have made provision for non walkers to pray at the final destination, so less mobile could have participated.
PUBLICITY 
We provided attractive publicity for each prayer walk day, and a prayer sheet for walkers on the day. On the prayer sheet were some written prayers of blessing and prayers for protection and provision for the area. Afterwards we sent feedback out to the growing mailing list, and a sense of a shared task was being formed.
 ROGATION DAYS 
In the UK in earlier centuries there has been an annual tradition among the Anglican churches, which still continues in rural areas of praying out blessings over the land, so in some ways we were tapping in to church prayer customs. These prayer days in the past were called Rogation Days (Latin rogare=to ask Mt 7:7) and took place on the three week days just before Ascension Day when Jesus gave gifts to men through His ascension, or on the Sunday before. Everyone in the local parish walked the parish boundary, and then a feast followed! We liked the fact that everyone took part, especially including the children. An intentional cross-generational approach is something to consider.
WALKING CHANGES US! 
By the time we had walked the area, we felt we really knew it in an entirely different way. We had walked it intentionally with the Holy Spirit guiding our steps, and speaking new thoughts into our hearts. He was lining us up with His love for the area. We sensed we were being changed by the experience. We had a growing sense of ownership. God had assigned us territory and we had walked it. (Joshua 1:3). We realised our strategy of broadening the prayer base by including the different churches and ministries along the boundary was mirroring the experience of Nehemiah rebuilding the city walls of Jerusalem. There each family had been given responsibility for their particular section within the whole. We had all joined in and a new sense of togetherness in the Kingdom of God task of mission was being nurtured.
NEW INSIGHTS 
We got new insights from the Lord about the area during the walk but also from some research into  the history of the area, and from the significant landmarks we identified. For example, Woodford is the place where Winston Churchill was an MP for years and there was a statue of him in Woodford. Also there was a clock tower in another part of the Borough inscribed with the words, In the Beginning was the Word, on one side, and on the other, In the beginning God created the Heavens and the Earth.  We discovered that the Borough coat of arms had interesting symbols on it characterising our area, and also the motto, In Unity Progress, which totally resonated with us. Even the Borough authorities had decided that Unity was a good idea!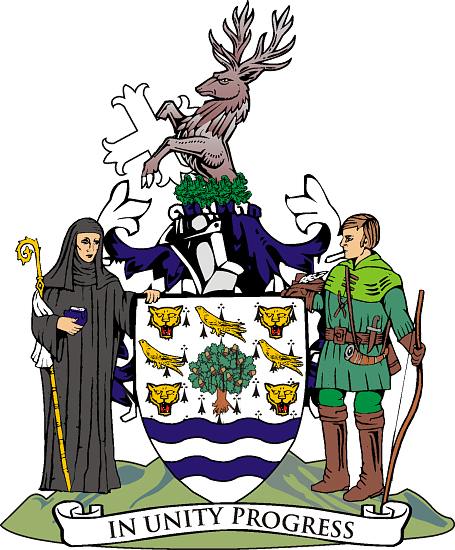 RELATING WITH PEOPLE WE MET 
On the prayer walks, we chose to be open for encounters with passers-by as led by the Holy Spirit. We had with us some Father's Love Letters to give to people, and were open to pray there and then on the street. This didn't happen often but we wanted to be open to this. We were looking with faith-filled eyes at how much God wanted to bless the areas we walked through with His goodness and His good plans.
PRAYING AND SHARING WITH OTHERS 
At the end point of the walk we allowed enough time to pray with one another and share any immediate thoughts.