A DIVIDED LONDON BOROUGH Redbridge is a London Borough with a population of around 260,000 people. The geography of the area is very divided, with major arterial roads cutting through the Borough towards and around Central London. The Borough is a relatively modern political construct bringing together into one unit, two very different towns-Woodford and Ilford. There is not a strong sense of unity or identity across the Borough.
INVITED TO HELP BRING SOME UNITY We were asked by the Street Pastors Co-ordinator at that time, if we might be able to help in bringing more unity in the way that the churches were working in the Borough. She had seen what was happening elsewhere, and realised how fragmented church work was in Redbridge. We were happy to help, and felt we needed to start with prayer.
A UNITED PRAYER DAY FOR LEADERS We created a group called Love Redbridge, (the shape of the Borough looked a little like a heart) and we built up relationships with many different church leaders over several months by having one to one conversations over cups of coffee. Our plan, as a small core team, was to hold a prayer day event for church leaders from across the whole spectrum of churches at a central location in the Borough. This took place, was a success, and resulted in a second similar event happening the following year.
HOW TO INCLUDE EVERYONE? Meanwhile we wanted to encourage a wide base of prayer from all believers in the Borough, but didn't feel there was enough ground swell interest from the local churches to hold a large prayer rally for everyone to attend. We were not convinced either that this was the way to go, and would involve a lot of expenses and heavy logistics for it to work. A large gathering would require a large venue, and choosing one of the local church buildings would be difficult. If we chose one in Ilford, it was unlikely that those in Woodford would want to come, and vice-versa.
WHAT ABOUT PRAYER WALKING THE BOUNDARY? We decided a more flexible way forward was to prayer walk around the boundary of the Borough. We chose three separate days to do this, one in the spring, one in the summer and one in the autumn. The walks were modest in length (three to five miles), from 2pm to 5pm with lots of stops at different churches, ministries, and landmarks. We allowed plenty of time as a group can walk VERY slowly! We also went and walked the route beforehand, ourselves, to check that timings were realistic. We deliberately connected with a variety of church types and ministries to reflect the range of work Christians were doing in the Borough. So during the walks, we walked as believers from Anglican, Evangelical, Pentecostal, Charismatic and Catholic churches, white English and Black African. We heard from Teen Challenge at work with addicts in Ilford, and from the Women at the Front line ministry working with street sex workers in Ilford.
INVOLVING CHURCHES AS STOPPING POINTS Rather than have only a small intercessory team prayer walking the boundary, we intentionally made an effort to mobilise the grass roots water table of believers in the area. We were able to get much more participation by contacting the churches along the boundary of the Borough and asking if we could make them prayer stops along the way. We asked them if they could share their prayer needs and their understanding of their local area, and join in at least the next stage of the walk for a mile or so. This strategy worked really well, and local churches were not only happy to host the prayer walkers for half an hour, provide refreshments and a toilet break, but also took part in some of the walk.
LOOKING OUT AND LOOKING IN By prayer walking the boundary, we felt we were encompassing the whole territory and declaring that the whole area belonged to God (Ps 24:1, Gen 1:1). Walking on the boundary gives a two-way perspective. On the edge, we were looking in towards the Borough, as well as looking out beyond it. This readily invited questions about what made Redbridge distinctive in character, and what were the influences and impact which this Borough had on others and vice-versa.
INCLUDING NON-WALKERS We think that God was very happy with our desire to include and honour, as far as was possible, the many different parts of the church in Redbridge. In hind sight we would have also liked to have made provision for non walkers to pray at the final destination, so less mobile could have participated.
PUBLICITY We provided attractive publicity for each prayer walk day, and a prayer sheet for walkers on the day. On the prayer sheet were some written prayers of blessing and prayers for protection and provision for the area. Afterwards we sent feedback out to the growing mailing list, and a sense of a shared task was being formed.
ROGATION DAYS In the UK in earlier centuries there has been an annual tradition among the Anglican churches, which still continues in rural areas of praying out blessings over the land, so in some ways we were tapping in to church prayer customs. These prayer days in the past were called Rogation Days (Latin rogare=to ask Mt 7:7) and took place on the three week days just before Ascension Day when Jesus gave gifts to men through His ascension, or on the Sunday before. Everyone in the local parish walked the parish boundary, and then a feast followed! We liked the fact that everyone took part, especially including the children. An intentional cross-generational approach is something to consider.
WALKING CHANGES US! By the time we had walked the area, we felt we really knew it in an entirely different way. We had walked it intentionally with the Holy Spirit guiding our steps, and speaking new thoughts into our hearts. He was lining us up with His love for the area. We sensed we were being changed by the experience. We had a growing sense of ownership. God had assigned us territory and we had walked it. (Joshua 1:3). We realised our strategy of broadening the prayer base by including the different churches and ministries along the boundary was mirroring the experience of Nehemiah rebuilding the city walls of Jerusalem. There each family had been given responsibility for their particular section within the whole. We had all joined in and a new sense of togetherness in the Kingdom of God task of mission was being nurtured.
NEW INSIGHTS We got new insights from the Lord about the area during the walk but also from some research into the history of the area, and from the significant landmarks we identified. For example, Woodford is the place where Winston Churchill was an MP for years and there was a statue of him in Woodford. Also there was a clock tower in another part of the Borough inscribed with the words, In the Beginning was the Word, on one side, and on the other, In the beginning God created the Heavens and the Earth. We discovered that the Borough coat of arms had interesting symbols on it characterising our area, and also the motto, In Unity Progress, which totally resonated with us. Even the Borough authorities had decided that Unity was a good idea!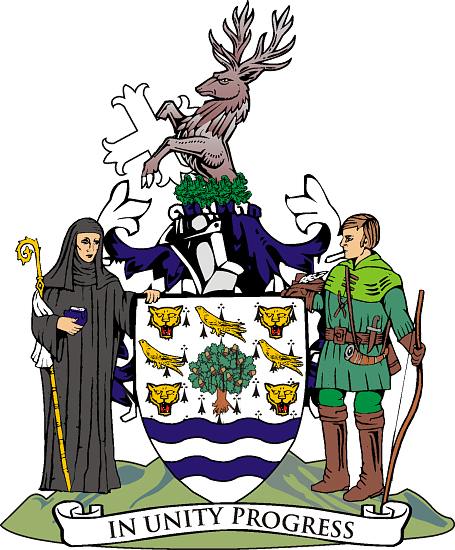 RELATING WITH PEOPLE WE MET On the prayer walks, we chose to be open for encounters with passers-by as led by the Holy Spirit. We had with us some Father's Love Letters to give to people, and were open to pray there and then on the street. This didn't happen often but we wanted to be open to this. We were looking with faith-filled eyes at how much God wanted to bless the areas we walked through with His goodness and His good plans.
PRAYING AND SHARING WITH OTHERS At the end point of the walk we allowed enough time to pray with one another and share any immediate thoughts.